Domaine Oury Schreiber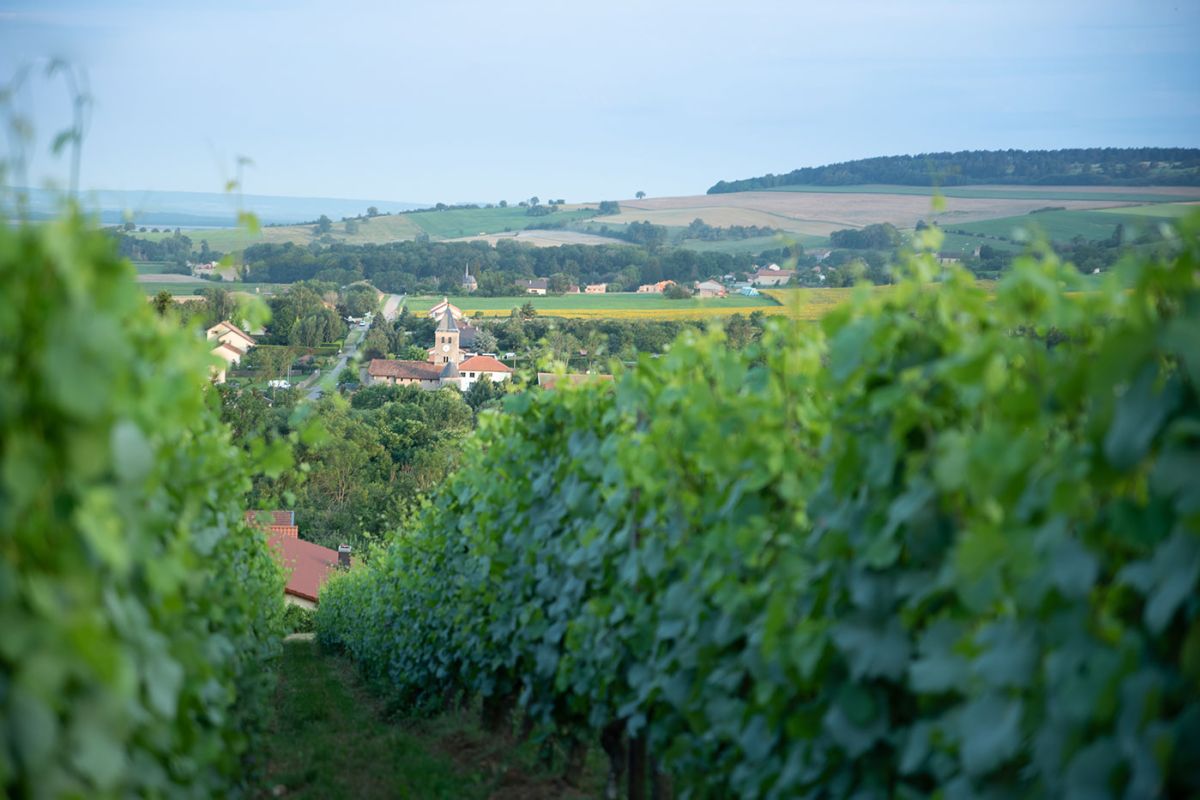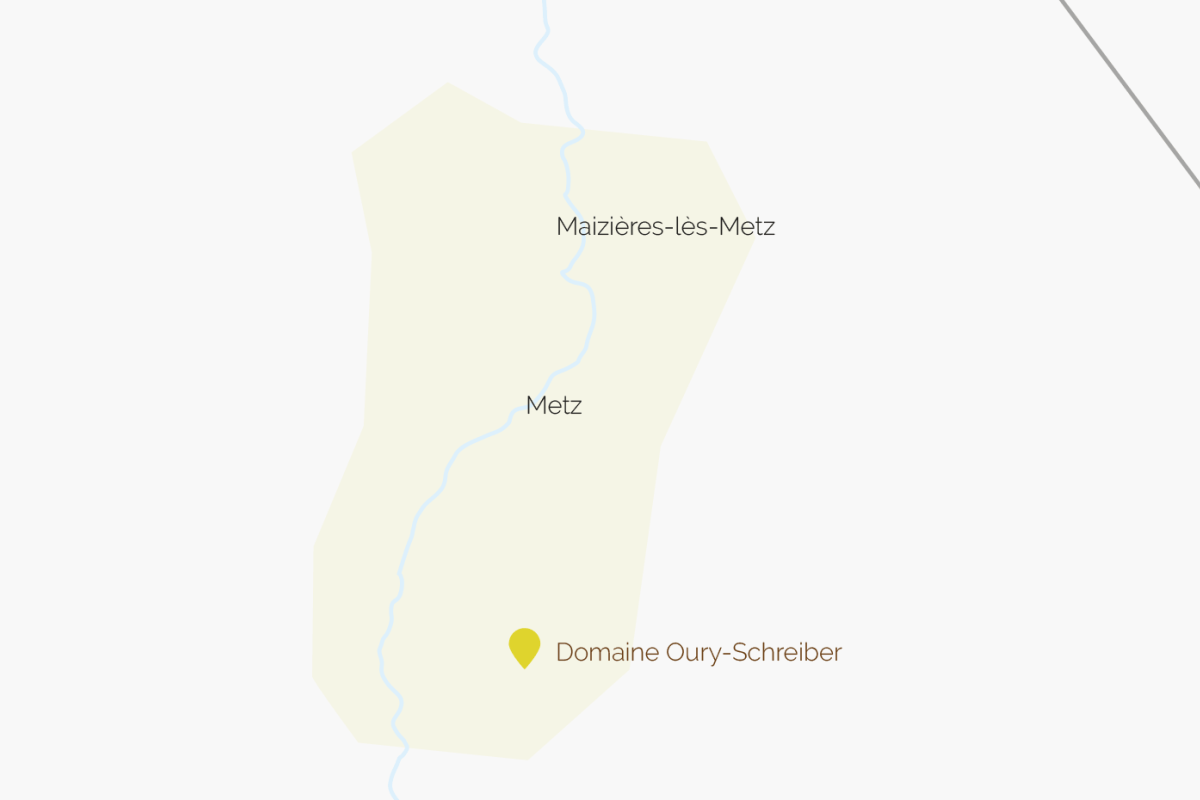 Angelica Oury and Cedric Benoit
Life in the vines, a shared adventure
History of the Estate
How was your Estate founded? Who founded it? What motivated you?
Angelica Oury – The founding of the Estate was a shared venture for this adventurous couple, who have dared to do many things over the years. My father Pascal Oury was a wine producer in the Champagne region. He was the first to plant vines on the Bassu slopes. I grew up there and harvested the grapes in the Champagne region with my parents who built their cellar there. My father often came to Lorraine region to visit his friends. He liked discovering new areas, so he visited the Moselle slopes and discovered their rich wine-producing history.
The family therefore decided to move and set up their vineyard in the region.
We started out with 1.2 acres of land from the Jaspard family's old vines, our first wines date back to 1991. My enthusiastic father's aim was to gain recognition for the quality of Moselle wines despite experiencing difficult years and rain.
Every year, we planted the plots, and I helped my parents build the cellar walls in 1994. I spent my holidays in the vineyards, the vineyards, and the vineyards, oh, and sticking on labels! I met Cedric elsewhere in the South of France, whilst… wait for it... working in the vineyards!
After my father passed away just 6 months after we arrived in Moselle, it only seemed natural that I should take over the running of the Estate. It was as though the very heart of the Estate had stopped beating, but we simply had to keep going. We were a bit like boats weathering a storm for a while, but we managed to maintain the quality of our wines and our work. Bernard Grandidier helped us a great deal with this difficult takeover. We are still learning every year. We try to promote Moselle wines and people are very intrigued by them.

The key people that are currently working here are myself, Cedric, Julien an employee and Alix our apprentice.
What training do you have?
AO - I completed a vocational course (BTS) in viticulture and oenology in Beaune (Burgundy region) and received a great deal of training from the family thanks to my dad's passion. I also went to Macon Wine College. I had always known that I wanted to do this job and stopped my studies to work in the Languedoc vineyards for 9 years.
Cedric on the other hand is self-taught and his first job was as a goatherder.
Wine tourism services
What wine tourism services do you provide on the Estate?
AO - We organise wine tastings, open days and events that are published on our website.
I constantly adapt things, but my life revolves around our vineyards more than wine tourism. I am very focused on vinification. I hope my bottles travel around France and Europe.
Projects
What future plans do you have for your Estate?
AO - After all these years in the vineyards, I have come to consider them a little like my children, so to speak. Our vineyards are big enough for us at the moment, we do not want to get any bigger. We want to further develop our organic wines, continue to stay close to our vines and live with them, whilst taking care of them.
Current situation
What is your Estate's surface area and geographic situation?
AO - We have 22 acres in total. Our plots are on three different slopes, in Vezon and on the hill in Lorry which overlooks the village. We really like varied and preserved environments (forests, orchards, and prairies).

Could you tell us about your production? What sort of products do you sell on the Estate? How much do you produce, how many bottles?
AO - Our main varieties are auxerrois, pinot noir and pinot gris.
My father was a creator and always made sparkling wines, it was therefore logical that we should also sell them, in particular our Henri II wine (which was given its name due to his love of history).
How would you describe the three wines you have selected?
AO - the first one is called "Les 4 éléments" and was especially created for the first year of the PDO Moselle, this vintage is now 10 years old. It is a dry and mineral blend of pinot gris and auxerrois.
The second one is "Scintilla," which is 100% auxerrois and vinified in barrels, which makes it a woody, powerful and rich wine with a lot of character. Its grapes come from vines planted in 2013. We had also created a wine that went by the very same name in the Languedoc, I therefore thought it would be fun to make a Moselle wine bearing the same name. History is never- ending and we can keep it alive.
The third one is called "Les Ramponnés" and dates from 2020. It is a pinot noir which comes from Lorry, a hamlet with a well-exposed slope and very good quality vines. Wines from these vines are always deep and powerful thanks to the area. This is the very lifeblood of the PDO, that moment when wines express the quality of the area they are grown in.
Estate fundation: 1991
Planting of the vines: Vezon and côte of Lorry
Surface: 9 ha
Production: -
Grape varieties: Auxerrois, pinot noir and gris
Land: -
Other activities : -
Certification : -


ouryschreiber.fr
Read more
Reduce text